Introduction
While the consequences of the Covid-19 pandemic saw a partial or even complete lockdown at several places across the globe, people have been rejuvenating their lives indoors. Just as Covid-19 has been reshaping the job market with a grand global experiment in remote learning, so have businesses adapted by shifting operations online. However, some companies are creaking under pressure with these sudden changes. While this has meant job cuts in some enterprises, others are either delaying key operations or deferring hiring plans. With the massive stress of this dreadful virus, employees are facing a unique challenge. The challenge of making themselves future-proof and elevating their skills to fast-track the economy when the pandemic resides. Also, huge section of the workforce is vulnerable to reduced income, furloughs or layoffs as a result of the Covid-19 crisis. The world is shifting at a rapid pace. Regardless of whether the change is brought on by technology or societal shifts, learning has become necessary for adapting and coping with it.
A recent PwC study reported that 79% of CEOs are constantly worried about the existing skills of their workforce and its ability to meet challenging workplace needs. Another report from Deloitte echoes a similar finding; in the next three years, more than 50% of employees will need significant reskilling and upskilling. Not just in technical capabilities like understanding emerging technologies like AI, but also becoming proficient in soft skills like communication, attention to detail and listening skills. While technical capabilities are much needed, human skills are invaluable too. So, it comes as no surprise that in a Global CEO Survey, 91% of business leaders reported that they need to develop soft skills along with technical skills. So, L&D will take on a growing responsibility to facilitate employees to challenge their capabilities and build their skill sets.
keep your team
engaged

and motivated
Send rewards and shortcuts
Built a sense of purpose
Hybrid-worl friendly rewards
Showcase your core values
Contact Us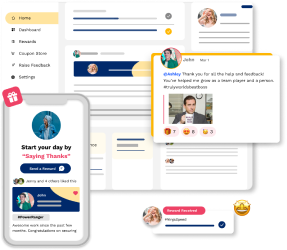 Functions of Learning & Development in the changing environment There would be a lot on the plate for L&D professionals. Although the prospect of it may sound daunting, it is an excellent opportunity for corporate trainers and L&D teams to upskill and reskill the workforce that can withstand and emerge successful in the ever-evolving landscape.
Deloitte's 2019 Global Human Capital Trends survey has identified upskilling and reskilling the workforce's as one of their top three priorities of most organizations. That means organizations would prefer to upskill and reskill their current workforce than recruit new talent. That also means a massive budget will be set aside for L&D to provide corporate training solutions that are aimed at reskilling and upskilling.
According to a recent World Economic Forum report, 77% of organizations surveyed are planning to increase their learning team's headcount, L&D roles the second-fastest-growing role in HR. Let's look at some of the reasons why reskilling and upskilling are important in the current scenario.
Engaging the existing employees
According to a report, millennials make up for the majority of the workforce, 87% of them consider professional development as very important in a job. They want to work at a company that invests in its employees career development. Upskilling and reskilling show that organizations care about their people's careers and futures. So, through L&D - robust career, better employee opportunities and experience within the company is offered. In this way, organizations can take advantage of the growing expertise.
Provides a Competitive Edge
Through upskilling and reskilling, employees quickly become experts at what they are doing; the more they explore, the more they start seeing things from a different perspective. The training equips them to come up with fresh and better ways of doing their core jobs. It stirs up their level of efficiency. The result? An improved business and individual performance.
Draw Potential Talent
Reskilling and upskilling are not only in the interest of the employees; it will attract potential talent as well. According to a recent survey, college and university students ranked 'growth opportunities' as their number one job search priority. Most of the students leaving a college or university, lack the essential soft skills to join a workforce. So, a dedicated reskilling & upskilling program will display the prospective talent how it's helping your current employees' careers and if they decide the join the organization, how it can do the same for theirs.
Elevate customer satisfaction
Upskilling and reskilling help your employees stay updated with the industry trends, empowering them with the knowledge to offer outstanding customer service to the clients. And when clients are happy, they are willing to pay more and become solid brand advocates for you.
Increase Staff Productivity
Upskilling & reskilling gives staff a motivation boost. Their newfound skills allow them to work more efficiently with others in the team. They feel more poised about themselves and their work. This helps them gain a sense of fulfilment and purpose. When they feel challenged and valued at work, it helps organizations to increase their loyalty.
Conclusion
So, when learning and development take centre stage, it acts as a catalyst to unleash innovations to make you stand out in the market. Upskilling and reskilling will eventually be embedded in the DNA of the organization, and it will help you succeed in this changing environment. Let's look at a stepwise L&D strategy and alignment approach to improve the overall individuals and organizational performance.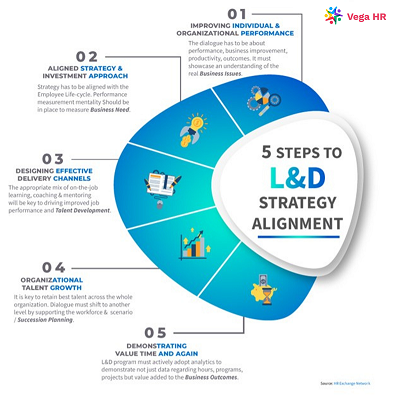 About Vega HR
Vega-HR is a powerful tool in the talent war, offering employee rewards, recognition, and pulse recognition. With an engaging platform, it fosters a world-class work culture, providing P2P recognition, social feedback, on-spot recognition, and monetizable incentive solutions with 3000+ coupons in various categories.
Create a
culture

people want to stick to
Send rewards
Give shoutouts
Build a community
Gift experiences
Get a demo